The Featured Artist status is a special thing which means that a user is featured. It might look like this: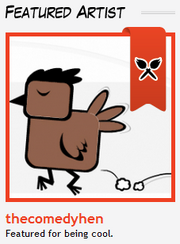 The Featured artist status is also about why they are featured. It has a small sentence below. It says: "Featured for being cool." It also has the featured artist's profile pic below the "Featured Artist" title. It also has a ribbon or curtain (If ribbon or curtain is wrong, please edit It. Thank you!) with a picture of 2 paint brush's crossed. Let's say that "thecomedyhen" Is the featured artist.
The featured artist will be changed daily or rarely.
The sentence below the user's name, "Featured for being cool," means that the user was voted to be featured.